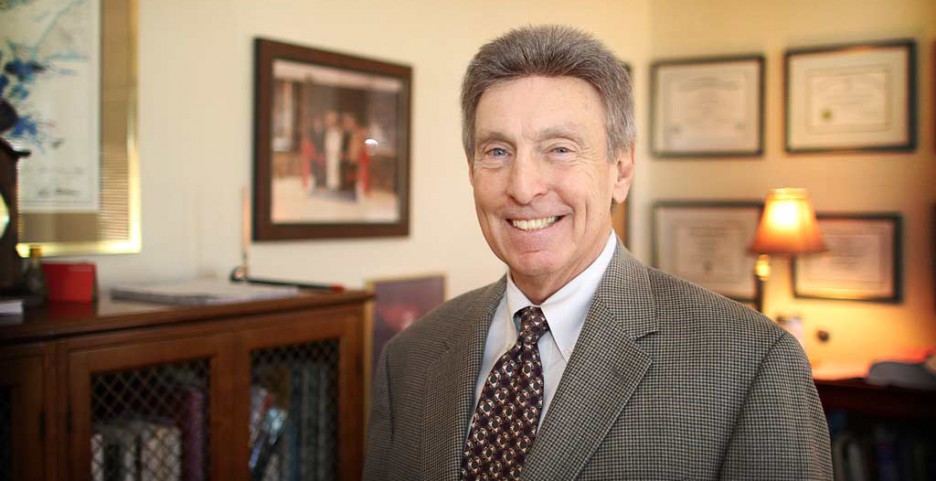 Note from Dr. Dorsey Dysart
I am a psychiatrist and addition psychiatrist. I specialize in eating disorders as well. Academically, I am certified in neurology, psychiatry, addiction medicine and psychoanalysis. Treatment avenues I utilize in assisting my patients includes psychotherapy, diet, meditation and psychopharmacology. All of my patients are seen individually by me with enough time allotted to deal adequately with the issues.
Dorsey Dysart, MD
Dr. Dorsey Dysart is committed to your recovery, your success and helping you build a happy, healthy life.
Dr. Dysart understands how hard it is to overcome these afflictions and has made it his life goal to help others. To promote your success, Dr. Dysart has invested countless hours into the education, experience and research of neurology, psychiatry, psychoanalysis, and addictionology. 
Although his resumé is extensive, a quick scroll will reveal that you have access to exceptional treatment.
Education
Drury University (1959-1963)
B.S. chemistry and biology
Award for his research in biochemistry from the National Science Foundation
Elected to Omicron Delta Kappa, a national honorary scholastic/leadership fraternity
Tulane University Medical School (1963-1973)
M.D. honors and award from the New Orleans Society for Neurology and Psychiatry for "particular excellence in psychiatry"
Internship: rotating
Residencies: neurology and psychiatry (Chief Resident)
Fellowship: psychoanalysis (Fellowship Coordinator)
National Neurological Institute, Queens Square, London, England (University College London Institute of Neurology (1971))
Clinical studies in general neurology
Neuropathology
Behavioral neurology under Dennis Williams, M.D.
Adjunctive Education
Brain Institute, Amsterdam, Netherlands (1970)
Neuroendocrinology
Mayo Clinic (1978)
Studies in EEG/Evoked Potentials under supervision of James Stockard, M.D.
UCLA School of Medicine (1984-1985)
Pain management under supervision of Joseph Helms, M.D.
Stanford University Medical School (1985-1986)
Sleep Medicine/Laboratory under supervision of German Nino-Murcia, M.D., Director
Certifications
Psychiatry: American Board of Psychiatry and Neurology (1976)
Psychoanalysis: American Board of Psychoanalysis (1976)
Neurology: American Board of Psychiatry and Neurology (1980)
Acupuncture: Adjunctive Member, American Medical Acupuncture Association (1989)
SPEX: Re-Certification of General Medicine Competency (2005)
Addiction Medicine: American Board of Addiction Medicine (2010)
FASAM: Appointed Fellow of the American Society of Addiction Medicine (2015)
Military
Navy Hospital Memphis (1973-1975)
Neurology and psychiatrist, Lt. Commander
Teaching Appointments
Tulane University Medical School (1973-1982)
Clinical assistant professor of neurology, psychiatry and psychoanalysis
Kansas University Medical School (1992-1995)
Clinical assistant professor, psychiatry
Achievements
Founder and medical director of the New Orleans Institute of Neurology and Psychiatry while on active duty with the U.S. Navy in Memphis, Tenn. (1973-1975)
Founder and medical director of Greenbriar Neuropsychiatric Hospital  in greater New Orleans (1982-1988)
Board member of HCSA for hospital and program development/management, mergers and acquisitions (1984-1989)
Board member of Diversified Equities Investment Bank. Left when tapped by the Justice Department to head forensic division (1987-1990)
Chief of psychiatry, neurology and forensics at a 1,100-bed federal medical center (1984-1989)
Co-authored with the U.S. Attorneys General Office for the Justice Department: The Right to Treatment and_ **Informed Consent**_, as position statement for the U.S. Supreme Court at a time of national crises over these issues. (1990)
National forensic expert and authority in brain mapping. Testified in more than 80 occasions in state and federal court.(1992-2000)
Forensic expert in diving medicine, evaluated and treated professional divers who had psychiatric and neurological disorders from complications such as decompression illness.
Founder and director of the Dysart Institute for Executive Development in San Francisco. (1996-2001)
Clinical director, Brookside Institute, outpatient and residential treatment center for alcohol and drug addiction in Newport Beach and Beverly Hills, Calif. (2004-2005)
Medical director, Castlewood Treatment Center in St. Louis. A residential and outpatient treatment facility for eating disorders, 35-40% had substance abuse. (2005-2007)
Private practice specializing in addiction and eating disorders in St. Louis. (2005-Present)
Publications
D. Dysart, Depression: An Etiological Factor in Physical Illness, accepted by the Journal of Psychosomatic Medicine with revisions, published by Tulane Press for the Tulane Medical Faculty, 1969
W. Hill and D. Dysart, Hereditary Peridic Ataxias, Systems Disorders, Chapter XXXI, Vol. 21, Handbook of Clinical Neurology, ed. J. DeJong, Elseviser, New York 1975
D. Dysart, Transference Cure and Narcissism, Journal for the American Academy of Psychoanalysis, Vol. 5(1), 17-29 1977
D. Dysart, Reference for Clinical EEG, published for New Orleans psychiatrists and neurologists by the local Society, 1978
D. Dysart, Crises in the Adolescent, North Shore Magazine, June 1985
D. Dysart, Treatment of Sleep Disorders, Practicum, Vol. 11 1986
D. Dysart, Correlation of Ceretec SPEC Findings with BEAM and Clinical Findings in Fifteen Psychiatric Patients, The Society of Nuclear Medicine 38th Annual Meeting Publication, June 1991
D. Dysart, Brain Imaging, Evolutions in Behavioral Neurology, Quarterly publication, June 1991
Informed Consent. Co-authored position statement with U.S. Attorneys Generals Office of the Justice Department for presentation to the U.S. Supreme Court, Washington, D.C., April 1990
The Right to Treatment. Co-authored position statement with U.S. Attorneys General Office of the Justice Department for presentation to the U.S. Supreme Court, Washington, D.C., APril 1990
Cognitive Neuroscience of Zen Buddhism and Addiction, book in preparation
Recent Lectures in Addiction and Eating Disorders
"Addiction"—Beverly Hills Bar Association, Los Angeles
"Addiction"—Orange County Bar Association, Newport Beach, Calif.
"Strategy for Treatment in Eating Disorders," Addictions and Trauma, Kansas City, Mo.
"Cravings in Eating Disorders and Substance Dependence," International Congress for Eating Disorder Professionals, Chicago
"Cravings and Addictions," Internal Family Systems National Conference, Chicago
"Cravings and Addictions in Eating Disorders: Old and New Theories, Neurobiology and Treatment Strategies," The Renfrew Foundation Conference for Eating Disorders (by invitation only), Philadelphia
"Addictions during Pregnancy," Queen of Peace Center, St. Louis